About DDM Novastar
---
With over 26,000 SMT and PCB assembly systems sold, DDM Novastar is a leading manufacturer of OEM equipment for the short to medium run production environment. By offering customers the most reliable, easy-to-operate, easy-to-service, and lowest total cost of ownership "turn-key" SMT OEM systems available today, DDM Novastar's commitment is to be a primary source for the most comprehensive range of solutions for prototyping, pilot manufacturing, and low to medium run high mix applications.
The company's unparalleled array of stencil printers, automated pick and place, re-flow and batch ovens, selective and wave solder equipment is backed by superior technical support and can accommodate the most demanding applications with absolute precision
DDM Novastar's equipment software uses SMT industry standard icon-driven, intuitive commands to make programming a snap. The state-of-the-art Windows GUI environment for job set-up, management, and a self-actualizing operator mode is packed with intelligence and speed for handling any high mix board population requirements no matter how simple or complex. DDM Novastar vision software allows easy, straightforward teach-in and operator modes to simplify part and system set-up and tuning. Configure a Paste, Place, Re-flow and Selective turnkey SMT line from DDM Novastar's latest generation of products to provide the exact requirements needed. The LS Pick and Place, SPA Selective Solder equipment and GF Re-flow Ovens offer the highest speed and performance while the CS Pick and Place, SPR Stencil Printers and Spartan Wave Solder products are designed for the most demanding, low cost applications.
DDM Novastar's History
---
DDM Novastar originally began as two separate entities- Automated Production Systems, Inc. and Novastar, both of which were incorporated in 1982 and 1989, respectively. To better serve the needs of customers, the two entities merged to form APS Novastar, LLC in August 2006. The original founders of APS Novastar, LLC based the business on the belief that they could make equipment simpler and better, while providing more cost- effective solutions for low- to medium- volume assemblers.
The Novastar product line began with lead-forming equipment in 1982 as part of the APS brand, with wave soldering machines and re-flow ovens following under the Novastar name in 1989. In 1992, products were introduced for the low- to medium- volume SMT manufacturing processes of paste-place-re-flow, with the roll out of manual stencil printers, manual pick and place machines, and bench-top re-flow ovens.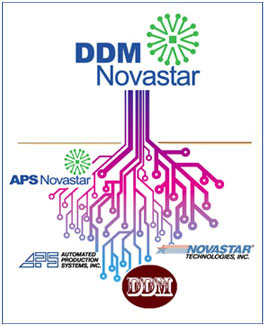 Throughout the 1990s and early 2000s, the company continued to refine products to better serve customers' needs with automated stencil printers and pick and place machines, along with high temperature, lead-free in-line reflow ovens. Further innovations on these machines included advanced vision-assist systems.
DDM Novastar, Inc. was established in 2011 after the close of APS Novastar, LLC, formerly of Huntington Valley, a suburb of Philadelphia. Many of the key people from APS were subsequently hired by DDM Novastar to continue the legacy started by APS in 1981.
Diversified Design & Manufacturing (DDM) specializes in the development of custom automation machinery and equipment, products that require precision and flexibility, providing an economical solution to customers' manufacturing or testing processes. With the company's extensive knowledge of hydraulics, pneumatic, motion control, servo systems, machine vision systems, PLC and PC integration, DDM can provide complete process or product development services. Combine this with the in-house machine/model shop for precise component design and fabrication, and you've got the best source for your project. Now, with the key people in place, DDM Novastar expects to continue in the footsteps of APS Novastar as the global leader in design, development and manufacturing of OEM equipment for the short- to medium-run SMT and PCB markets. Located in Ivyland, PA, DDM Novastar, Inc is a privately held company consistently reinvesting profits to sustain technological innovation to meet customers' future needs.